By joining the Society of Labour Lawyers, you will have have access to all of our events, specialist groups, meetings, Parliamentary Labour Party advice scheme, and more! 
We have a variety of membership fees as set out below. Please select your relevant membership when joining.
If you have any problems or queries, please email administrator@societyoflabourlawyers.org.uk
Partner/KC – £100
2 years+ PQE/Call – £80 
<2 years PQE/Call – £50
50% or more Legal Aid work – £50 
Trainees, Pupils & Magistrates – £25
Law students, Paralegals & Retired – £15
Associate Members [non-voting] – for non-Labour party members and none of the above – £15 
Important: Payment Completion
Once you have entered your contact details, you will be redirected to JustGo.
This is where you need to select the correct membership option, as shown in the image below.
YOU ARE NOT A MEMBER OF THE SOCIETY OF LABOUR LAWYERS UNTIL YOU HAVE COMPLETED PAYMENT.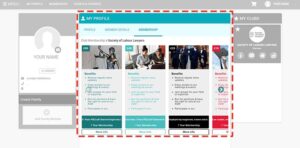 Additional Information
We collect additional information which is helpful for us in directing advice requests we receive to the relevant lawyers. Please complete your profile by:
1. Click the "Member details" box as above. 
2. Complete the "Areas of Expertise" & "Additional Details" boxes. 
3. If you are a student, please also complete the "Students" box.